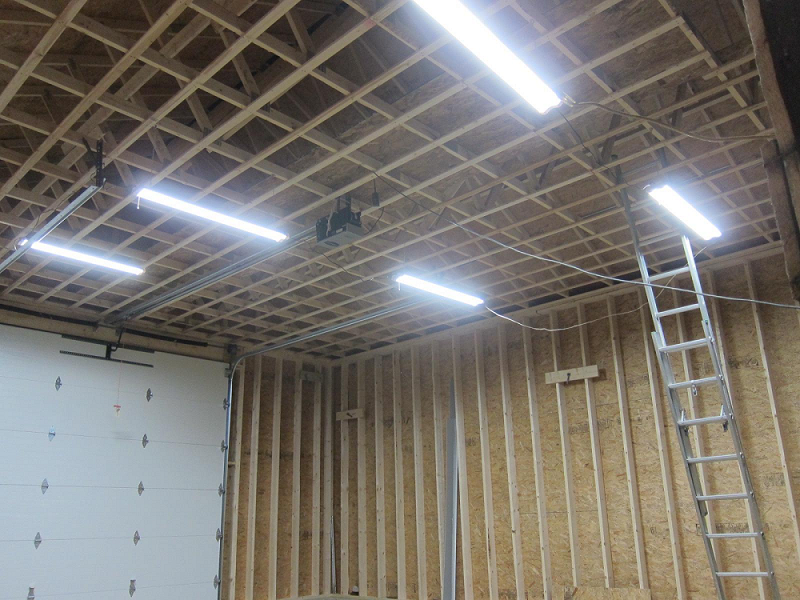 How to choose suitable LED shop lights?
How to choose suitable LED shop lights?
LED shop lights are a type of LED lights commonly used in shops, garages, workshops, warehouse, etc. It has most partly replaced traditional fluorescent lights in the business world due to its environmental benefit, high efficiency, energy saving and durability.
4 factors need to consider
Brightness
As mentioned, LED shop lights have higher luminous efficiency than fluorescent lights and incandescent bulb light . Using Lightdot LED shop lights as an example, 50W LED shop lights equals 400W fluorescent lights, with a brightness of 7000 lm and an efficacy of 1400 lm/W. The efficiency of fluorescent lights is less than half of that of LED shop lights. You can find LED shop lights with different levels of brightness on the market and purchase 20W, 30W, 40W, or higher power lights based on your specific needs to satisfy your lighting needs for various spaces. Of course, whether the lights satisfy your lighting needs depends on illuminance. The IES file will inform you of the brightness and ranges of illumination for lights with specific power at different levels.
Color Temperature
Different color temperatures feel different. For example, light bulbs with a color temperature of 3000K at home creates a sense of comfort and warmth. In workplaces, the color temperature of the lights tends to be higher and energize people. Take the place where the lights are installed into consider when choosing LED shop lights. For workshops, choose lights with higher color temperature, such as 5000K or higher. For places that need to relax and don't require deep concentration, you can choose for lights with lower color temperature.
Pull Chain
To install LED shop lights in big garages or workshops, you need multiple LED shop lights. It is convenient and practical to use independent pull chain to control each shop light. And with pull chain, there are more suitable scenes to use such as over a workbench and table.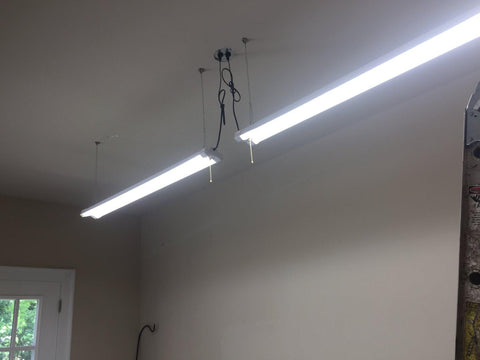 Integrated LED Shop Lights or Retrofit LED Shop Lights?
When choosing LED shop lights, many may wonder whether they opt for brand new integrated LED shop lights or replace their fluorescent tubes with retrofit LED shop lights. For workshops without fluorescent tubes or those with enough budget, we suggest choosing integrated LED shop lights, which is easily installed at once.To use a integrated led shop light with reflective shield can make the light uniform and super bright, no flickering or no noise.In the meantime, it can save maintain cost due tothe long service life of LED shop lights..  After selecting the suitable lights, you only need to install them once.