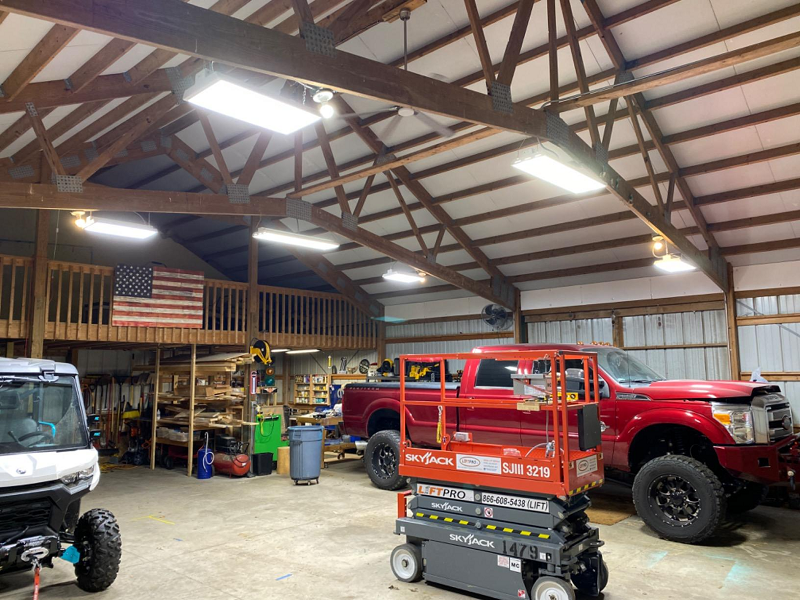 What is Led Linear High Bay Light?
WHAT IS LED LINEAR HIGH BAY Lights?
When you are faced with the task of having to illuminate and light up a vast and expansive space, there is no doubt that you halt in your steps and think twice about what options you have available. There are so many types of high lumens lights, that a little research is helpful before making any decision.   One type of light you need to research is Linear LED High Bay Lighting.  A Linear LED High Bay light is a linear-structured fixture whose light source is LED. It is designed to illuminate expansive areas where maximum light output is required.  This takes modern High Bay Led Shop Light technology and extends it out in length.  Longer and wider than UFO lights , it gives you different options.   It's obviously ideal for warehouse or other long and skinny areas, but it can also be used in the open area.   Stretching the light out often means less fixtures. 
High bay light fixtures are used to illuminate large indoor spaces with high ceilings. They're not only designed to produce a bright, clean light from high ceilings, but also deliver a powerful, high quality light source. These LED bay light fixtures are the perfect solution for commercial lighting needs in Exhibition hall, garages, warehouses, gyms, manufacturing space and large retail spaces.
Here are a few examples where using Linear LED High Bay lights becomes the best choice of all:


1.WAREHOUSE LIGHTING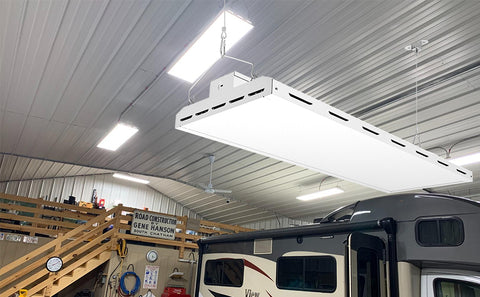 Warehouses lighting have lots of choices.  Warehouse lighting should be even and glare free, so the space can be made productive, efficient, and smart.  Solving this problem takes a little understanding of your options.  You may be able to retrofit with an LED retrofit product LED Light Bulb, or it may be best to replace your fixtures entirely.  You have the option of 
UFO LED high bay Lights 
or Linear High Bay Lights.  Most warehouses are limited by giant racking that creates tunnels inside the building.  Illuminating these warehouse isles is often challenging.  Linear high bay lighting uses the latest technology to solve this problem.   These fixtures form a High Bay that evenly distributes light output over the area and makes for a space that seems to be breathing with life.
With dimming options available to be associated with these High Bay LED lights, they become an automatic must for any and all warehouses, as they are already being used vastly by many.
2.SUPERMARKET LIGHTING
To provide customers with the ideal shopping experience as they move through rows and rows of aisles to browse, retail stores face plenty of lighting challenges. For stores and markets with high ceilings and spanning over a large area, the LED Linear High Bay lights act as the perfect solution for providing uniformly distributed illumination.    Not only do they provide great lighting, they also look good.  Customers will notice and complement the sleek looks of the new LED lighting.   
3.INDOOR SPORTS COURTS LIGHTING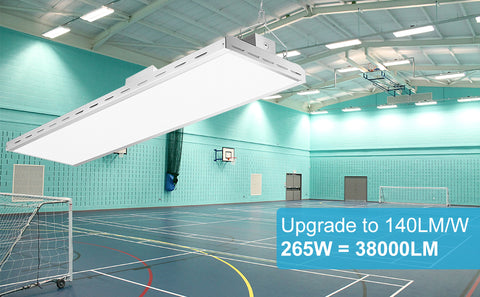 To ensure safety of athletes and maximum performance, it is necessary that indoor sports facilities boast a top notch lighting system. The LED Linear High Bays provide sufficient light and enhance the overall atmosphere of Indoor Sports Courts.  There are lots of good LED sport court Lights, but using 
265 watt linear high bay lights
is often the most cost effective option.  
Why IS IT BETTER THAN REGULAR HIGH BAY LIGHTS ?
The reason why LED Linear High Bay lights have become a much better prospect than regular High Bay alternatives is because they are up to 90% more cost and energy efficient and provide double the output for half the investment.
LIGHT ANGLE 
The light or beam angle is defined as the angle at which the light is emitted from the LED source that is the High Bay light. Using lenses, LED High Bays are able to direct their light in a particular direction or over a particular area.

The beam angles is 120 degree.   The 120 degree wide is used for wider area lighting.   The 120 degree aisle lights are great for light down aisles.   If you require an LED light that may light up the space between two closely placed aisles, then you should go for the narrower angle. If you wish to cover a vast expanse such as a warehouse, then wider angles should be preferred as the light becomes more dispersed in this option.

Cost-efficient, energy-conserving, and infinitely productive, Linear LED High Bay Lights are certainly recommended for anyone and everyone looking for an ideal product to light up their spaces.
How to choose LED High Bay Light?
Have you ever had these doubts?

How many high bay light need to use for your warehouse/Shop/Garage/Barn....?
What wattage need to use?
What is the best installation height for each wattage?
I have a 50' x 50' x 16' tall shop, would like to know what style of light and how many I should buy for the most cost efficient and best lighting?
I have a building that is 25 meters long by 15 meters wide. My ceiling hight is 6 meters. What size light and what spacing would you recommend?
Don't worry, Lightdot team will help you!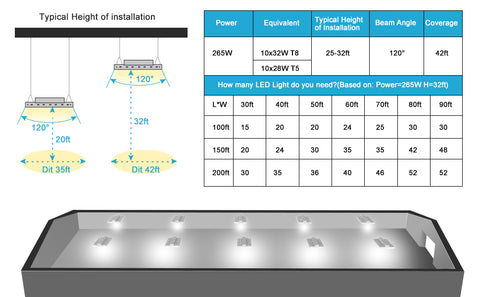 The above figure is good for preliminary reference.