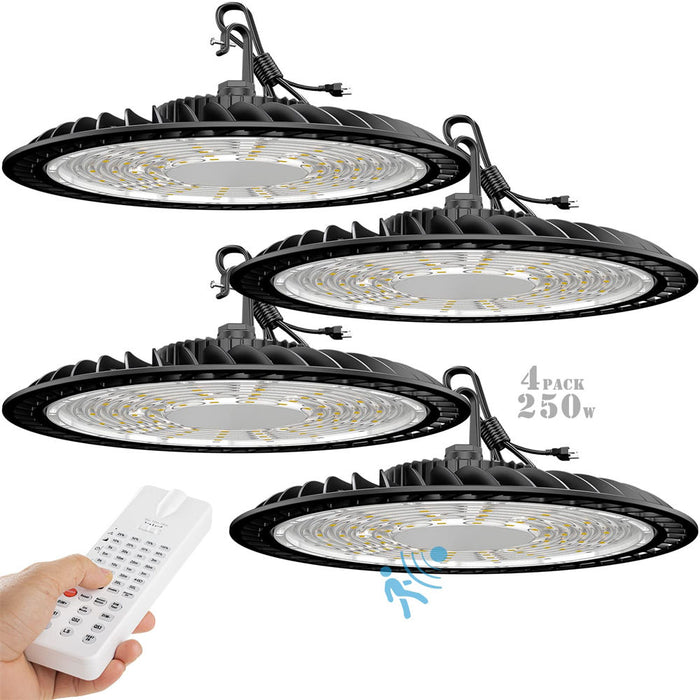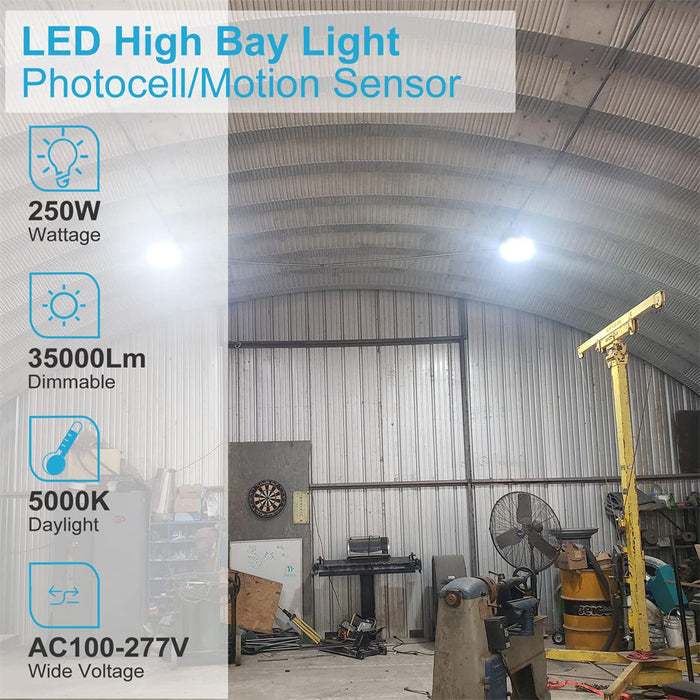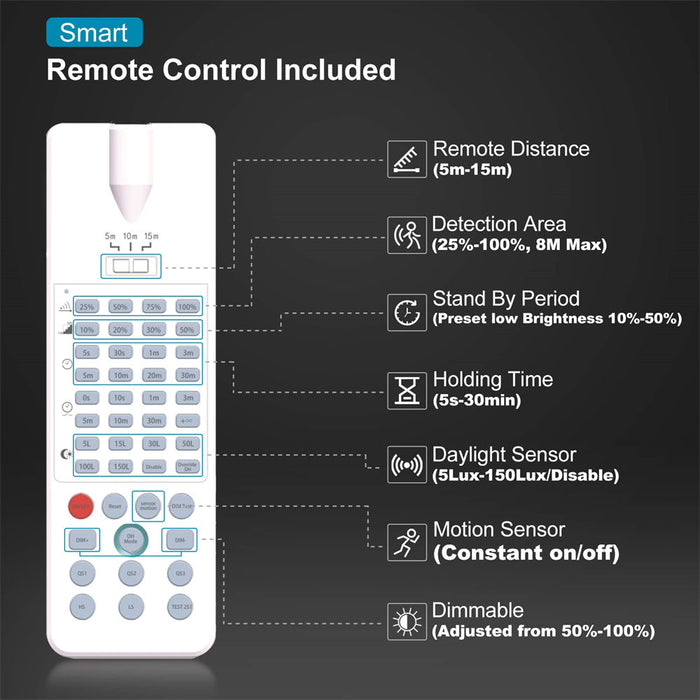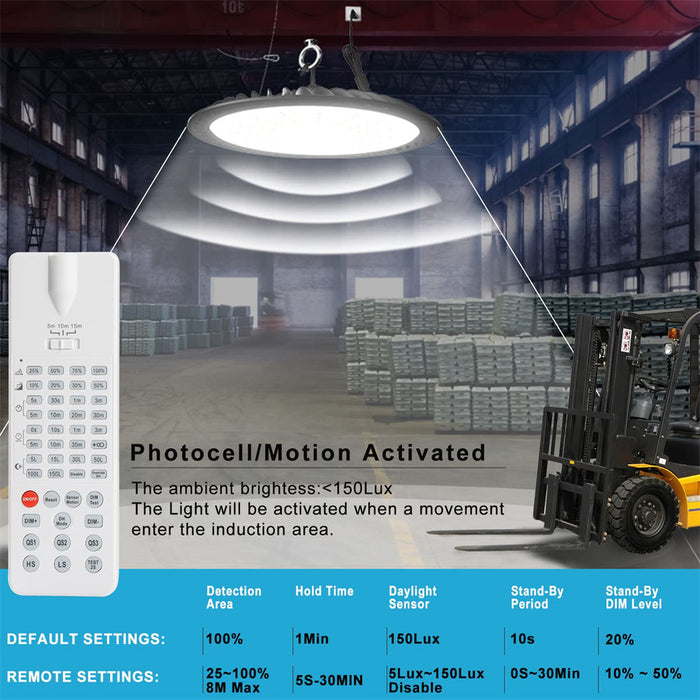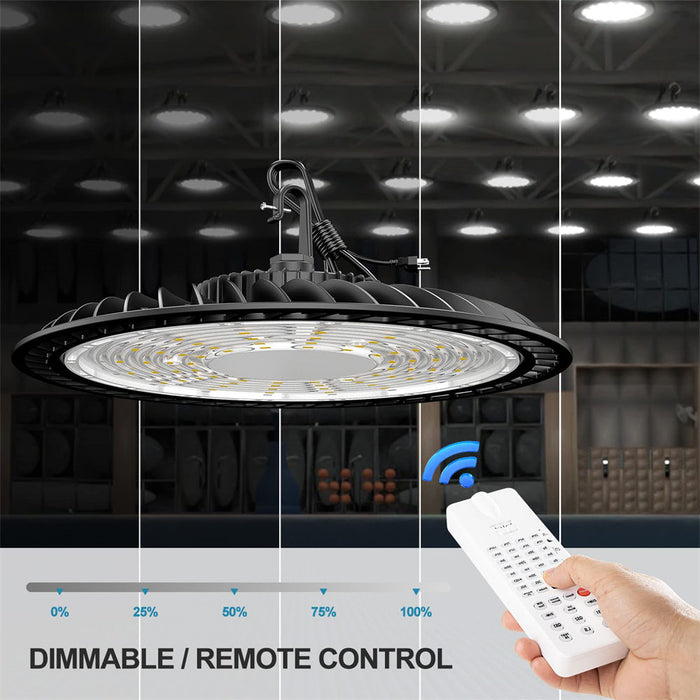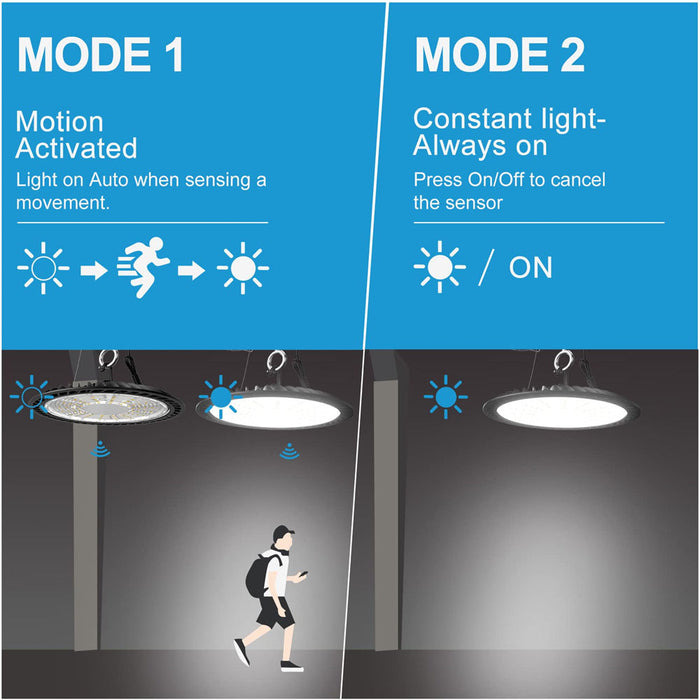 Lightdot Smart Motion Activated LED High Bay Light 250W, Dimmable/ Sensing Distance/ Hold Time Adjustable High Bay LED Light
Smart Motion Activated LED High Bay Light, Dimmable/ Sensing Distance/ Hold Time Adjustable High Bay LED Light, 250W 35000lm 5000K UFO High Bay Lighting with Multifunctional Remote Control - 4Pack
Specification of 250W LED High Bay Light with Motion Sensor
| | |
| --- | --- |
| Wattage | 250W |
| Luminous Flux | 35000Lm |
| Color Temperature | 5000K |
| Certification | ETL Listed |
| Material | Die-cast aluminum + ABS Lens |
| Input Voltage | AC100-277V |
| | |
| --- | --- |
| Equivalents | 1000W HPS/HM |
| Motion Sensosr | Yes |
| Dimmable | Yes |
| Remote Control Included | Yes |
| CRI | >85 |
| Plug included | 1M cable with 3-Pin USA Plug and a safety rope |
Features:

【Photocell & Motion Activated】This high bay light is designed with intelligent and energy-saving Microwave induction. The sensing range can be reached 12-15m and sensing angle is 360°.

【Smart Remote Control Included 】This high bay led shop light comes with intelligent a remote control, The Motion distance/ brightness/ hold time can be easily DIY by the remote controller. Memory function and the light remains on when power is turned on after power-off. The sensor can be removed. If the sensor mode is not needed, it can be removed and turn into long bright mode by press On/Off.

【Energy Saving & Dimmable】– 250W LED high bay light give out 35000lm, Eqv.to 1200W HIP fixture. The Smart LED High bay light with 0-100% brightness dimmable, you can dimming as your needed, which helps you cut down the electric bill up to 80% instantly.

【 ETL & Safety Installation】- ETL Listed UFO High Bay LED Light include US hook for easy hanging mount, comes with 5 foot cable and 3-pin plug direct to 120-277V AC power sourcing, as well as provided a safety wire for safety use, no more tools needed. Recommend installation height at 16~18ft.

【RELIABLE WARRANTY】 – No harmful substances, no radiation, 100% environmentally-friendly, 100% safe and easy to install. We persist in product quality and provide you 5-year warranty. Please contact us if any issue, we'll reply within 24 hours.
250W Motion Activated LED High bay Light
Specification of 250W LED High Bay Light with Motion Sensor
| | |
| --- | --- |
| Wattage | 250W |
| Luminous Flux | 35000Lm |
| Color Temperature | 5000K |
| Certification | ETL Listed |
| Material | Die-cast aluminum + ABS Lens |
| Input Voltage | AC100-277V |
| | |
| --- | --- |
| Equivalents | 1000W HPS/HM |
| Motion Sensosr | Yes |
| Dimmable | Yes |
| Remote Control Included | Yes |
| CRI | >85 |
| Plug included | 1M cable with 3-Pin USA Plug and a safety rope |
Multifunctional Remote Control Included for the UFO LED High Bay Light
Function of The Remote Controller
Detection Area & Hold Time: Set detection area:25%/50%/75%/100%,Diameter:8 M(Max),Set hold time:5S/30S/1min/3min/5min/10min/20min/30min

Multi Function Press Button: Press the "ON/OFF"button,the light goes to constant on/off mode, sensor is disabled.Press"Reset"button,all parameters are same as default setting. Press"Sensor motion"button,the light quits from constant on/off mode, and the sensor starts to work(the latest setting stays in validity)

Setting sensitivity: Press"HS"button to set the detection area to be high sensitive.Press "LS"button to set the detection area to de low sensitive. The adjustment bases on the"Detection Area"parameter you set.

Dimmable: 10%~100% can be adjustable.

QS1,QS2,QS3 &TEST 2S:Detection area/Hold time/Daylight sensor can be adjusted by Pressing the corresponding button.The latest setting will stay valid. Under any status,press the"TEST 2S" button,sensor enter into test mode, the parameters are as below:Detection Area is100%,Hold time is 5s, Daylight sensor disable.This function is only testing. Quit this mode by pressing"RESET"or any other function buttons.
Note:Battery is not included.
Default Settings of the Motion Activated High Bay LED Light
Factory Default:
Detection area: 39FT~ 52FT.

Hold time: 1minute.

 

When the movement leaves the induction area, the light will be turned off after 1minute.
Daylight sensor: 150Lux.

 

The motion sensor will be activated when the outside is less than 150Lux.
Note: The Package Comes with a Smart Remote, you can change any setting by your remote controller
Dimmable LED High Bay Light
10%~100% brigtness can be easily adjustable by the remote control.
Motion Activated Function ( Factory Setting)
After installation, when you turn on the light first time, the light will light up for 5-10 seconds and then turn off automatic.
When the outside is less than 150Lux (about 6:00PM), a movement enter into the induction range and keep moving, the light will light up automatic and stays on.
When the movement leaves the induction range, the light will be turned off after 1 minute.
Change To Constant light ( Stays On Always)
After installation, press "ON/OFF" to change to constan light, control on and off by your wall switch.
Note:
Any of your operation has memory function,no needs to be reperformed each time.