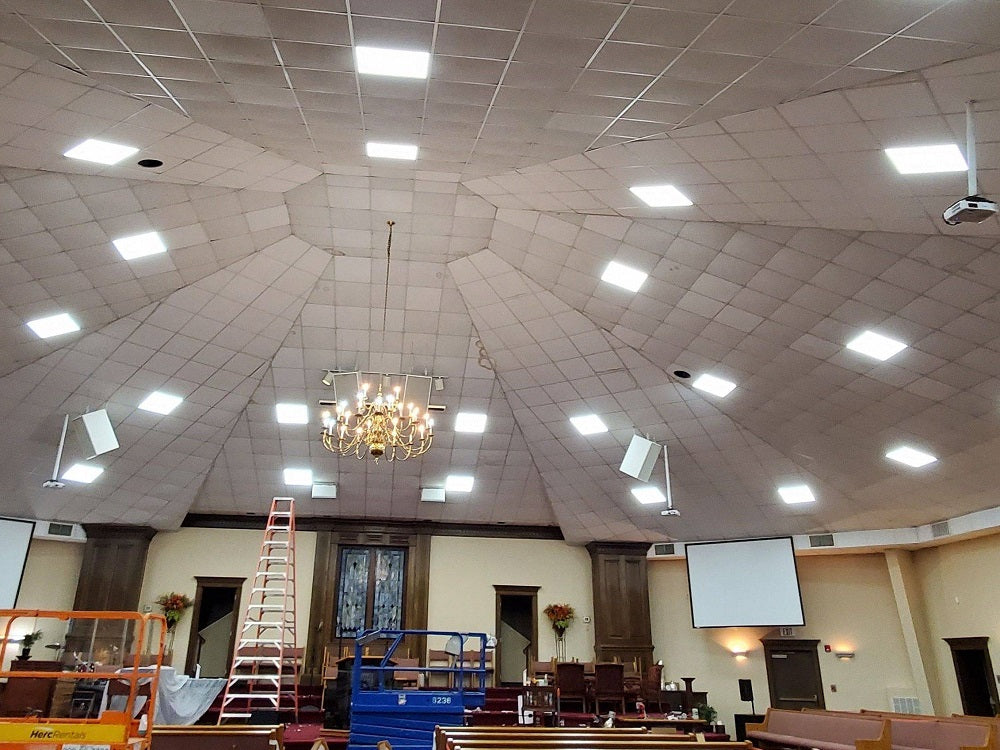 7 Factors to Choose Best LED Flat Panel Light
How to choose best Flat Panel Led Lights?
LED Flat Panel Lights are the perfect energy-efficient indoor lighting. substitution for traditional linear fluorescents in offices, commercial and industrial buildings, educational institutions, and retail. Flat panels, in general, are mostly edge-lit, which makes them incredibly thin, allowing them to work very well in shallow plenum spaces. They're also rated for nearly 100,000 hours of maintenance-free operation, which means your and your customers' time can be put towards things that don't involve maintenance.

Because of its perfect energy-saving and long lifespan, Led Flat panels are very expensive to buy, and we want you to choose the most suitable one . Therefore, we have created the following factors that truly decide the performance of your light and the benefits you will get from them.

1. Energy Efficiency

The very concept of inventing Led lights was that they consume less power to give the same lightning when compared to other types of lights. So, in general, all the LEDs are energy efficient as they reduce your bills up to 80%.
But you should always consider the efficiency of your panel based on its lumen-per-watt rating. The light having higher rating gives you much bright light as compared to low rating panel.
Suppose you compare two panels having power rating of 50W and 40W. Let's say 120 and 100 are the lumen-per-watt rating of 50W and 40W panels respectively. In short, 50W bulb has a higher lumen per watt rating which makes it more efficient than 40W panel.
So, don't buy the 40W panel just because it has a low power rating. It does have low power consumption but it does not give you high lumen rating either. So overall it is less energy efficient.

2. Lifespan of LED panel light

Life of your panel is described by the lifespan of bulbs fitted in it. But you should always buy higher lifespan panels for the areas where installation of your led panel is a difficult task. Otherwise going for the 50,000hrs lifespan panels are cost-effective for you.
Meantime,you should also consider all the quality certifications your panel is having. Generally, the panel having higher number of quality certifications has much better durable quality than other types of panels.

3. Lumens of Led bulb

Lumen rating is the measurement associated with light bulbs that tells how much light or brightness this bulb can produce. It is the luminous flux created by your lighting bulbs.
Therefore, the panel having a higher lumen count is much brighter than the panel having less lumen count. So, before buying your Panel always compare it with other panels in the same price range. And select the one which has high lumen count, as it will give you maximum brightness among all.
In a word, go for the one which gives you high lumen count utilizing the minimum power.

4.Color Temperature

Colour of Led tells about what colour light you will receive from the Led. So, it becomes an important point to consider because not every place requires the same colour producing Led.
At present, Some brand led flat panel light fixture can select the color temperature. For example, Lightdot 2X4 flat panel led lights can select 3000K/4000K/5000K by switch. Don't nned to worry about which color temperature to buy. You can change the light freely.(Note:We only need 3CCT for r everyday usage)Professional electricians suggest 3CCT Can meet the use requirements

5. Capability of Dimmable

There are instances when you require high brightness but after few minutes or hour that high brightness is not needed. But you can't switch off the light because lightning is necessary at that place.And it's a little troublesome to change your bulbs with low power bulb that gives less light.It will wast your electricity bill which is not requirement.
At present, the dimmable capability of LED panels has been invented. You can change the brightness of light emitted by your installed panel, as per the brightness you want in your area.Which helps you in saving your electricity bill every time you don't need high brightness. They are the perfect choice for the places like hospitals and hotels where low brightness is required in night, and high brightness is required for rest of the time.
Our suggestion is to buy the one which has this feature. Also, focus on how much you can change the brightness. Some changing brightness from 0-100%, while some from 5-100% and rest from 10-100%.Obviously, 0-100% give you a wider range of selecting the brightness.

6. Colors Rating Index (CRI) 

CRI is the ability of a light to show the objects around you in their natural colors as they are. Another way of saying it simply is, it indicates how natural the objects around you appear when illuminated by your LED panel. For e.g. how much blue looks like blue, or green looks green, or red looks red.
Experts say that lightning having CRI from 80-90 are good, while CRI above 90 is considered excellent.Go for high CRI panels if you want to install them in art galleries, museums, or jewellery shops where natural colour of objects displayed are of prime importance.


7. Heat Dissipation

Led panels get heated up when used for long times, and this is the case which you cannot avoid. This heat degrades the performance of your panel and eventually end up damaging your panel.Therefore,you should always go for the Led panels that have better heat-dissipating capability. The panels having aluminium body dissipate heat much better than other types of panels.