HOW TO GET THE RIGHT LENGTH STRING LIGHTS
How to get  the right length string lights?

Popular Ideas for Hanging Patio Lights in Any Outdoor Space!
Measuring Tips - Part of what makes patio lights unique is the natural swag or arc that is created when you hang them. While beautiful, this natural curve is often the cause of strings that don't quite reach despite exact measurements being taken. To make sure you have enough length to cover your entire space, swag included, you'll want to measure the area in which you plan to hang your lights and then buy light strings that are 2 to 6 feet longer than your linear measurement. If you end up with a little more string length than you need you can always shorten it by doubling it up on the ends.
There are a lot of different length for you to choose, such as 24ft ,36ft ,48ft, 50ft,100ft and 200ft, and they are linkable to each other which can meet your any requirment for the length.
48ft outdoor led string lights
100ft string lights outdoor patio lights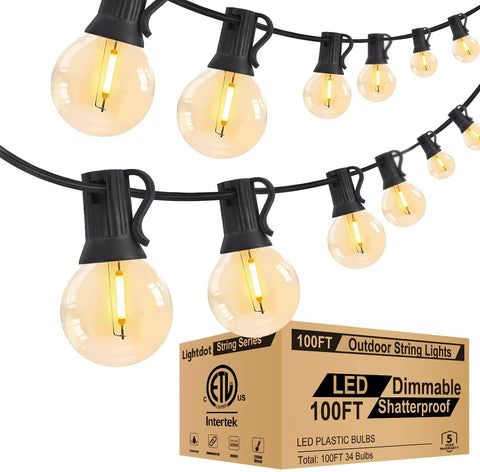 200ft led string light outdoor

Patio string light lengths, light colors, bulb shapes, bulb sizes and bulb finishes all make a difference. To help you create the outdoor scene of your dreams, complete with lighting that fits your individual style, we've come up with our most helpful tips and tricks for selecting patio bulbs and light strings as well as mistakes to avoid before you buy.
 
Porch String Light Patterns - Some popular light hanging patterns include the zig zag, the PX, the scallop and the square. Different spaces may lend themselves to different patterns so consider the look you'd like to achieve. First, determine if you want your patio lightLs to hang taut or if you'd rather they create a sweeping effect across your space. Next, choose a pattern and measure the total linear feet you need accordingly. Then add a few feet to the measurement to account for a swag, if you want one.


Bistro lights String Lights on Stakes - Use shepherds hooks to hang lights along a path, or create perfect spacing with walkway light stakes. When planning the length of lights to use, you'll want to estimate for the natural dip that will occur between stakes.
Cafe string light bulbs are available in a variety of shapes and sizes to complement any space or decorative style. The image above illustrates the type of bulbs available as well as the bulb base size. Bulb base size is important to know in order to match the bulbs you choose with the appropriate string socket size. For example, bulbs with E12 candelabra bases will need to be matched with a light string that has E12 sockets.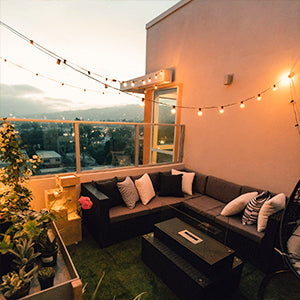 Globe string light bulbs are the most common choice in outdoor string lights and iconic for their round shape. Globe lights range from small G40 (40mm) bulbs, perfect for cozy spaces to larger, G50 (50mm) bulbs which are ideal for larger areas where greater size and coverage is needed.

Edison string light bulb shapes come in many varieties but the S11 and S14 feature more elongated bulbs, which are very popular because of their unique look. A15 and A19 bulbs are also a popular choice because they are the universal light bulb look.

C Bulbs are typically associated with Christmas lights and are routinely seen right side up. However, you can just as easily turn them upside down and achieve the same patio string light look. Because the shape of C7 and C9 bulbs is more elongated like a candle tip, it creates a more slender and long light halo.

LED Patio Light Bulbs

LED patio bulbs are available with glass and acrylic lenses and a variety of finishes. LED patio lights are long lasting and incredibly vivid. Additionally, if your project requires a long run of bulbs, going LED means less time configuring power supply needs, calculating max wattage and worrying about blowing fuses.
Glass vs. Acrylic
The choice to go with glass or acrylic patio bulbs often comes down to durability, budget and display. Glass bulbs are generally less expensive than their acrylic counterparts which can be very important when factoring budget into your outdoor lighting equation. Although initially more expensive, acrylic bulbs are shatterproof and the colors are infused into the material instead of being painted on, so they won't fade, chip or crack. Additionally, because acrylic bulbs are also LED, they stay cool to the touch, providing convenience and peace of mind. While budget and durability weigh heavily in the decision to go glass or acrylic, the choice is also often one of personal preference regarding display. Glass bulbs are iconic in the patio lighting world, so it is understandable why many people are drawn to their classic beauty, whereas others love the vivid colors and modern designs found in acrylic LED bulbs.