Warehouse Lights LED High Bay Lights
What is an LED high bay light and what are the Options?
What are high bay lights used for?
A: high bay lights are used in large spaces usually above 15 feet high and open in nature. They are high output lights designed to cover a large indoor area with light.
You've got big spaces from 15 feet to 50 feet high?   That's called a high bay and lighting up those big spaces takes bright lights.      High bay lights have been around for awhile but LED spiced things up with smaller UFO warehouse lights and linear form factors that can put out twice the light in half the size.  
What are the best applications of LED high bay lights?
A: Think warehouses, convention halls on the big side, but even shops, pole barns and small workshops can use high bay lights.   Even down to 10-12ft, these marvels of modern day lighting can make that garage shine bright and all the projects and work under them easier to get done.
How do you mount a high bay light?
A: UFO High bay lighting fixtures are mounted with a single eyebolt in the ceiling and clipped to the light with a carabiner clip.  Linear high bay lights use 2 wires and are attached to the ceiling through bolt holes or strung over beams
What are the different shapes of LED high bay lights?
A: Round and rectangle, known as ufo for round and linear for rectangle are most common high bay light shapes



It is possible to get the lights in varied shapes and sizes. Round and rectangle, known as ufo and linear are most common.   Square is also out there, especially using explosion proof lights or other flood style fixtures.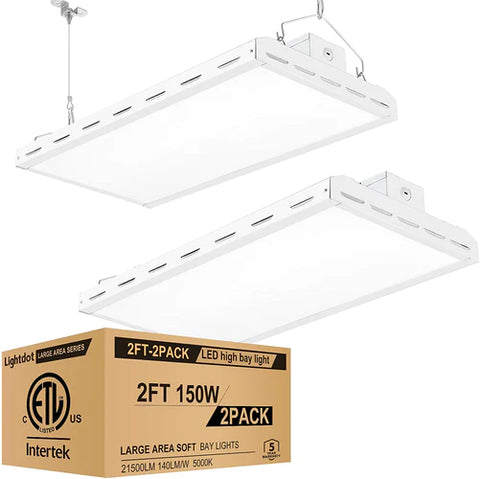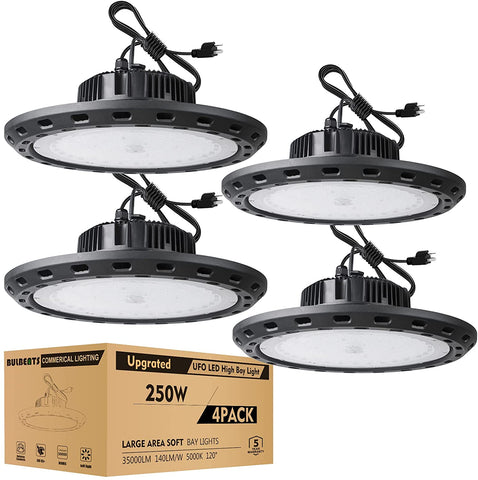 A: With modern LED technology there is very little difference.  The linear lights used to have better coverage, particularly at installs below 14ft. Today the LEDs are the same and the drivers are the same, the main difference is install. Round have a single eye bolt and linear have 2 gripper wires.   Linear has a junction box on the back where UFO lights have a whip, which is just bare wires coming out.