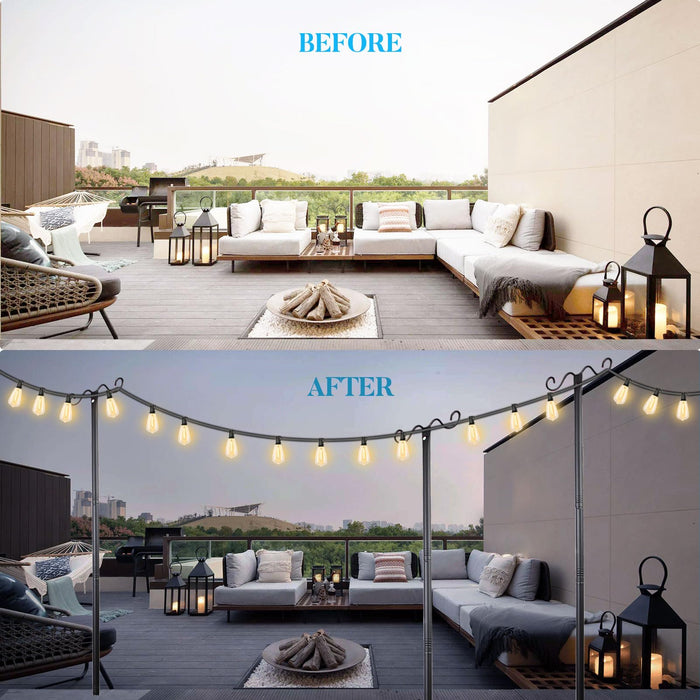 Lightdot Outdoor String Light Poles, 9FT Metal Patio Light Poles Post for Outside with Fork for Outside
Outdoor Light Pole Post💡 Lightdot light pole is manufactured by premium-quality black steel with rust-resistant coating, so you can pretty much use them in all outdoor occasion. High-quality material perfect ensures longevity and resilience against external elements, sturdy, durable, and reliable outdoor patio string light poles. (Note: String lights are not included)

Simple & Stylish 💡 Lightdot string light pole with upgraded reinforced diagonal support rod and the 5-prong push fork, customers can lodge the pole deep inside ground of your patio, garden, and backyard. When you install it near fences, walls and hedges, secure the poles with brackets and screws, you can hang multiple other decorations besides string lights, for example, flags, paper lantern, wind chimes, mason jars, etc.

Easy to Install 💡 These patio string light poles are very easy to install, all you need to do is connect and tighten the pole pieces and insert them into the ground, no need of any tools. Each pole coming with brackets and screws for fixed mounting, not easy to bend and break, making it more secure and reliable.

Properly Distance for Poles 💡 The recommended outdoor light poles distance for light weight lights is 5ft, keeping the poles stand straight and stable, which can ensures a perfectly maintained presentation for your backyard guests.

Lifetime Guarantee 💡 Lightdot provides you with high-quality product, and 24-hour full-time after-sales service. If you have any questions about these String Light Poles, do not hesitate to contact us via Amazon messages, we will offer you the best solution.